This whole site is new!!!

I have created this site because there is not much out there about the Geo Metro. It is not exactly a "mainstream" car, but as I have found out, it has a large following. So I decided to make a site that briefly outlines the Metro from a showroom stand point. I also will have photos of enthusiasts cars showing what they have done to customize their Metros for both appearance and performance.
This site is still under construction so please bear with me.
If you have any photos of Geo or Chevy Metros, or photos of your personal Metro and you would like them posted on this site:
Mail to: RallyMetroXFi94@aol.com
I will add as many as I can. Also if you know of any cool Metro related sites mail them to me also so I can check them out. I have a few on the Links page but am always willing to check out any that I have not seen.
Thank you for visiting,
Chris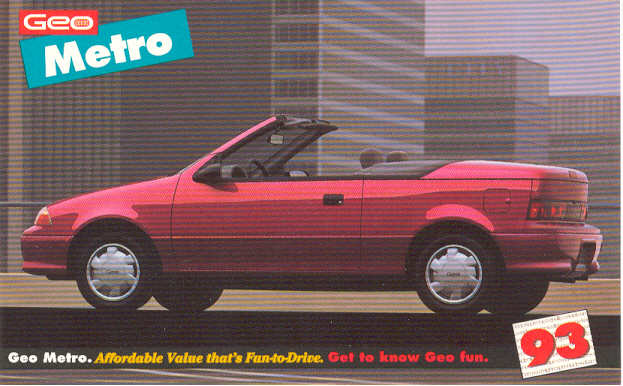 Have Any Photos Of YOUR Metro?
Well then mail them to me and I will post them on this site!!
Mail to: RallyMetroXFi94@aol.com

Any and all Metro photos would be greatly appreciated.
Thank you.